Payment Services Available
Avoid the stress of paying your bill each month. For your convenience, Pend Oreille PUD offers multiple bill payment options. Select the one that is right for you:
Easily drop off your payment through our Drive-Up Payment Drop Box located at the Newport Administration Building (just before the drive-through window).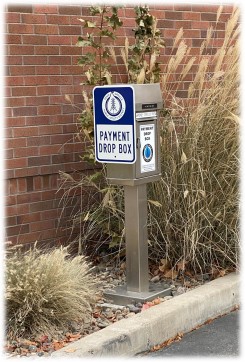 Drive through Window
Open daily Monday‐Friday from 8a.m. to 5p.m.
We are located at 130 N Washington. Pend Oreille PUD accepts check, cash and credit card.
Pay by Phone
Pay by phone by calling 1‐855‐875‐7209
Auto Pay
Auto Pay takes the worry out of paying your monthly billing through automatic withdrawal from your checking account or an electric transfer from your credit card. Sign up online through our SmartHub app.
Budget Billing
If you want to equalize your monthly bill, budget billing can help. Billing amounts are determined by averaging the previous twelve months of electric usage with the current month. If you are interested in this program please contact our office.
Pay Online
Pay Online through our mobile and web application called SmartHub. Once you have completed the registration process for your SmartHub account. You can:
Pay your bill
Monitor your electric usage
Sign up for Auto Pay
Visit our SmartHub website to register today.
Quick Pay
The Quick Pay option offers the ability to pay your bill without setting up a SmartHub account.
Visit our SmartHub Pay Now website to try this new option.
Box Canyon Visitor's Center Payment Kiosk
Always Open ~ Bring your account number with you, you'll need it in order to make a payment.
Located at 7492 Hwy 31 Ione, WA 99139.
This is a quick and convenient way to pay your bill and it is open 24 hours a day - 7 days a week. You can easily enter your customer account number at the kiosk and make a payment using cash, standard size checks, and major credit or debit cards. Stop by and give it a try – if you have questions, please give us a call at 509-447-3137.