Current Press Releases
Pend Oreille PUD Receives Upgraded Investor Credit Rating- 12/6/2023
Pend Oreille PUD Launches New EV Charging Station in Metaline Falls - 9/14/23
Pend Oreille PUD Receives Supreme Court Opinion
Pend Oreille PUD & City of Newport held ribbon cutting ceremony at Founder's RV Park- 7/18/23
Pend Oreille PUD Water Systems Manager Earns Lifetime Achievement Award - 5/9/23
Pend Oreille PUD Announces Resignation of Colin Willenbrock as General Manager - 12/20/22
Pend Oreille PUD and Clark Public Utilities Sign Long-Term Hydropower Agreement - 10/18/22
Pend Oreille PUD Executes Power Contract with Cascade Digital Mining 8/15/22
Bonneville Power Administration Authorizes Restart of Newsprint Mill - 4/4/22
Pend Oreille PUD Approves Interim Power Contract for Former Mill Site - 8/24/21
Pend Oreille PUD Receives Affirmation of Investment-Grade Credit Ratings - 8/12/21
Pend Oreille PUD Presented with ESD Employer of the Year Award - 6/8/21
Pend Oreille PUD Completes ELC Feasibility Study - 6/7/21
Pend Oreille PUD Reaches Settlement Agreement with Seattle City Light - 2/25/21
Pend Oreille PUD Activates Riverview Water Treatment Facility - 2/18/21
Pend Oreille PUD Partners with Shell Energy - 01/04/21
Current News
Listing of Available Community Wi-Fi Hotspots:
South County:
Usk*: At the Crossroads where Hwy 20 meets Hwy 211, 421341 Hwy 20.
North County:
Tiger*: At the Tiger Historical Center, corner of Hwy 20 & Hwy 31.
*Please note: The Tiger and Usk Hotspots were installed in collaboration with NoaNet & the WA State Broadband Office and are under WiFi Name: HomeworkHub.
Newport School District Hotspots:
Sacheen Lake Station on Hwy 211 (6131 Hwy 211)
Fertile Valley Station (11 Jermain Rd)
Camden Station (4193 Allen Rd)
South Pend Oreille Station 4 (433171 Hwy 20)
Dalkena Station (11 Dalkena St)
Always accessible is the school district WiFi at the schools, including the Pend Oreille River School located at 110 W. Pine St, behind Safeway.
Link: Newport School District Hotspot Information
Pictures of the NoaNet Hotspots: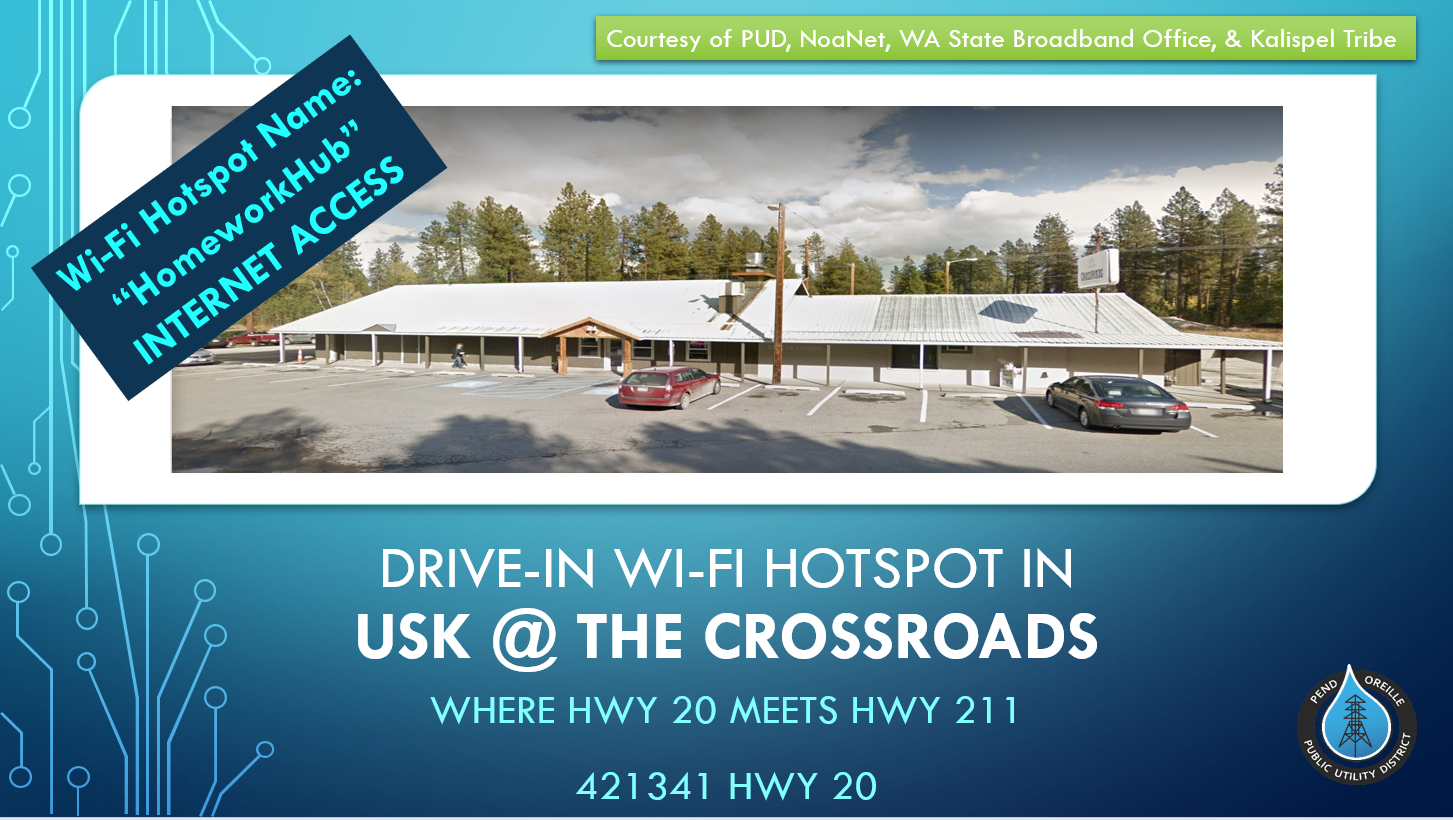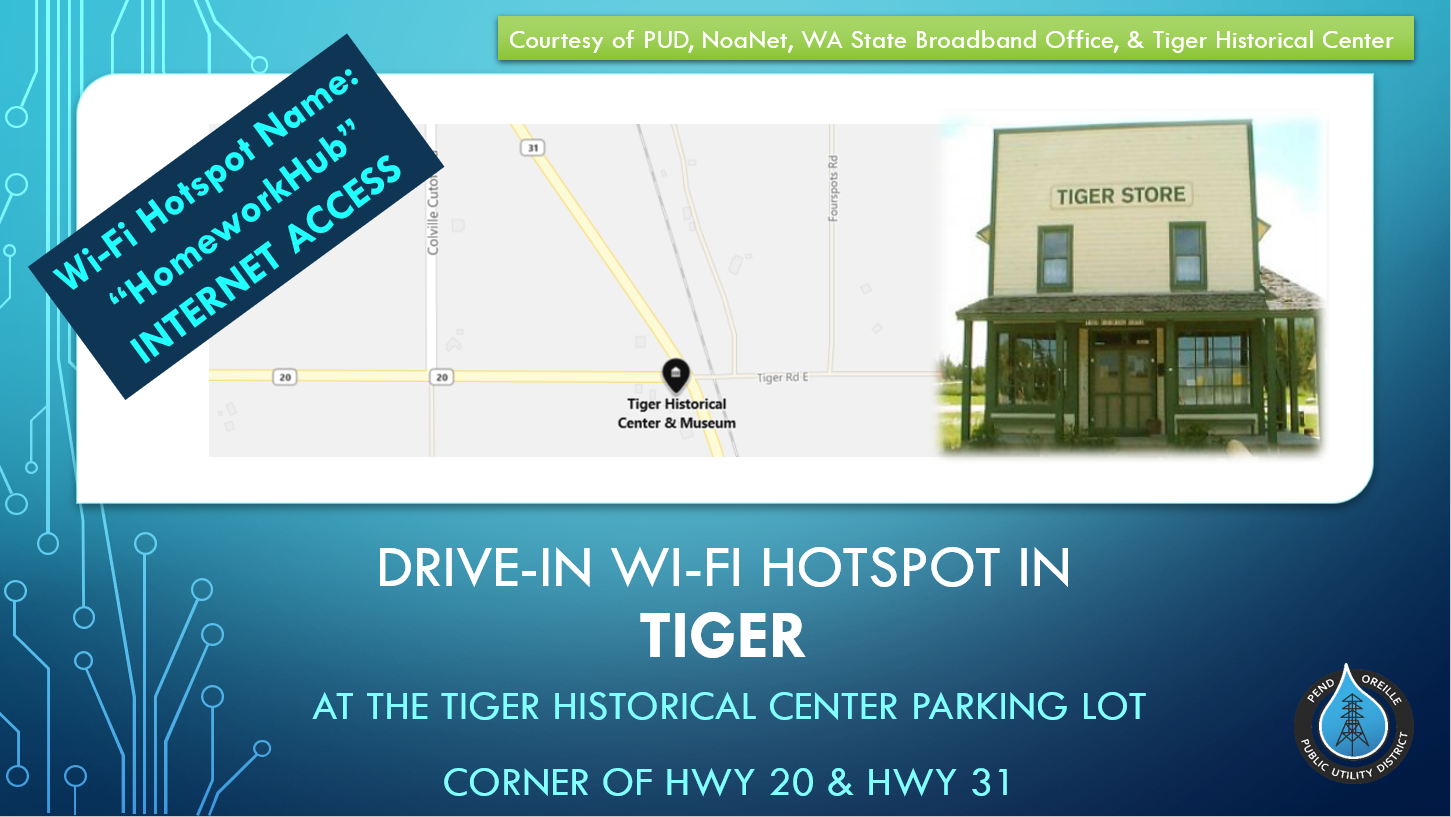 There is currently no media available.